The Best Text Analysis Software for Education
By Stuart Grey
If you are considering doing some small scale manual text analysis at your institution and don't need, for example, automated labelling or sector benchmarking, an important question to consider is what is the "best text analysis software for education?"
At Student Voice we are committed to making sure the sector is informed of all available options when searching for tools that can help them analyse their education focussed free-text datasets. While we are confident that our own text analysis platform is unique in the education industry due to its use throughout the education sector, we've also compiled a list of text analysis software for tackling the smaller and less time-sensitive text analysis tasks. These software packages are also sometimes referred to as CAQDAS (Computer-Assisted Qualitative Data Analysis Software) depending on which field you are in.
The following list is split into desktop and cloud-based categories. While none of the following are education-specific tools, they can all be useful in carrying out general analysis of your free-text datasets.
Desktop Software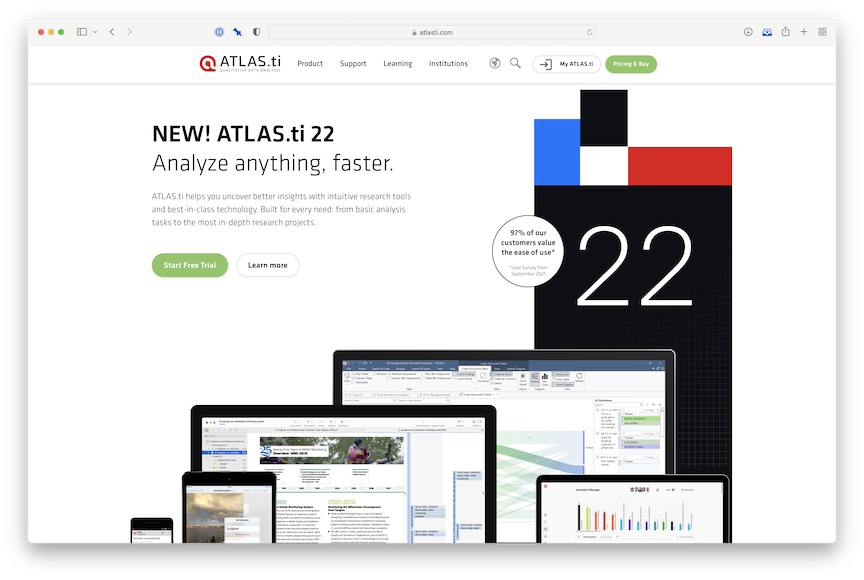 ATLAS.ti is a tool designed to help analyze all types of unstructured data (text, multimedia, geospatial). This includes the ability to code data, evaluate its relative importance and visualise the data and its relationships.
The most recent release is Version 22 which introduced the following improvements:
Analysis of social media comments.
Auto coding of relevant concepts.
Organisation of codes into folders, categories and sub-codes.
New charts and tables to give an overview of your data
and more...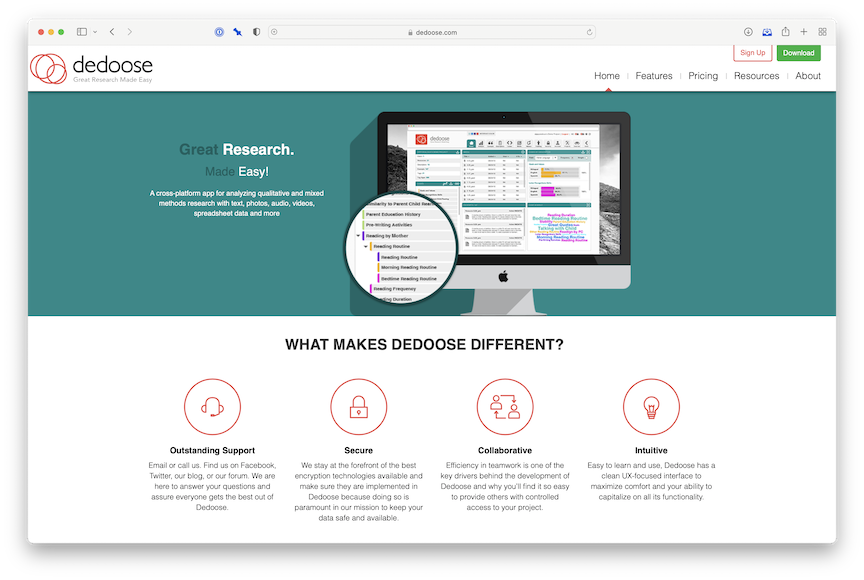 Dedoose is an alternative to other qualitative data analysis software, explicitly aimed at facilitating rigorous mixed methods research. It comes from a more academic background but is not limited to pure research as it is used in medical, market research and social policy research.
The most recent release is Version 9 which includes:
User interface upgrade
New language options for the user interface
Bug fixes and performance enhancements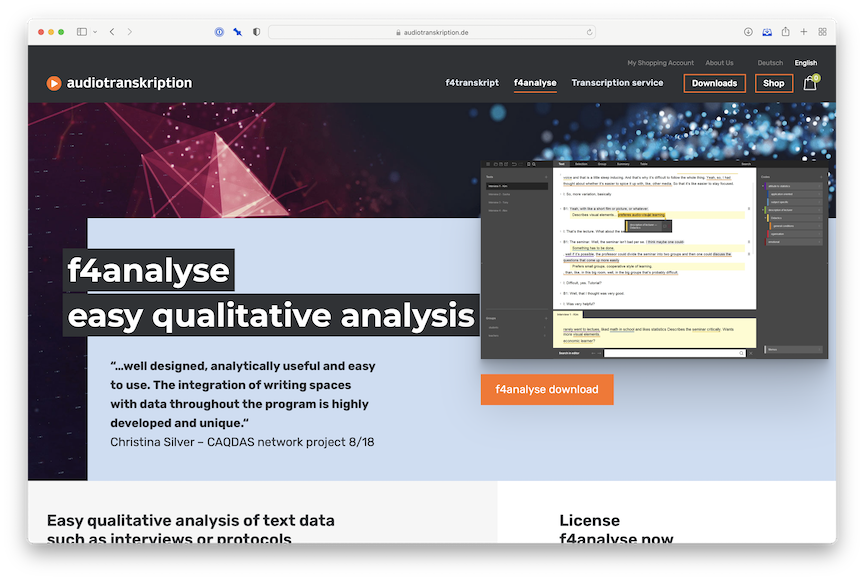 f4analyse has been designed as a low/no-code tool for data analysis and allows users to use analytic methods that do not rely on coding. It also includes the ability to take notes/memos and communicate interpretations/summaries.
The most recent version is version 3.4.1 which includes:
Text-based analysis
Memos & comments
Coding system
Collaboration features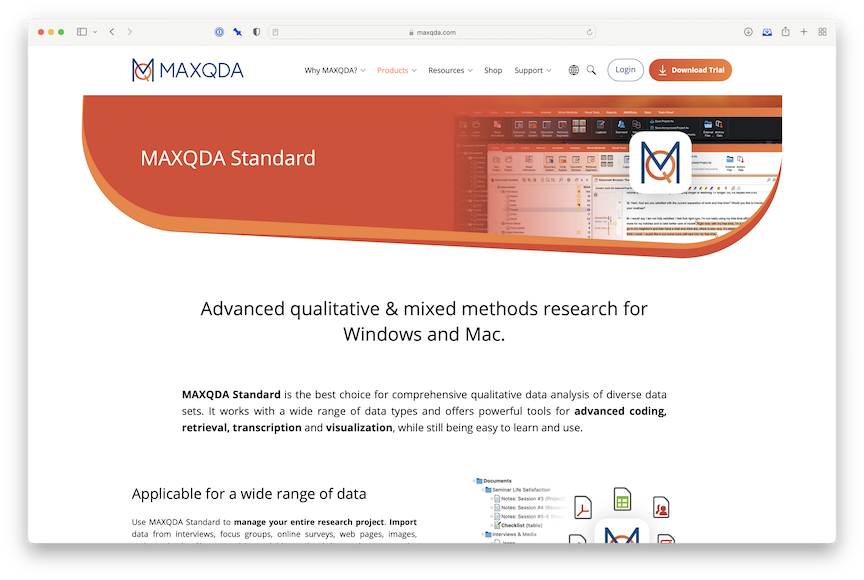 MAXQDA is designed for use in qualitative, quantitative and mixed methods research. This research focussed tool is particularly well suited to processing interviews and combining qualitative and quantitive attributes.
The most recent version is MAXQDA 2022 that includes a suite of text analysis tools including:
A Profile Comparison Chart
Word Explorer
Import of text highlighting and comments from Word & PDF
Code & Document Summaries
Emojis!
Code name suggestions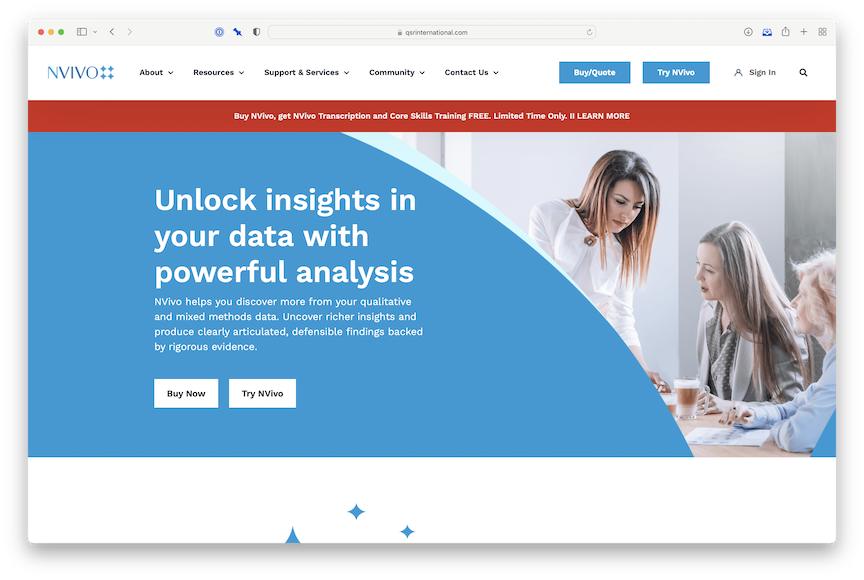 NVivo is one of the best-known desktop tools in the text analysis for the education field and is designed to organise, analyse and find insights in unstructured or qualitative data like interviews, open-ended survey responses, journal articles, social media and web content.
It is used ina. wide range of fields beyond education, including social sciences such as anthropology, psychology, communication, sociology, as well as fields such as forensics, tourism, criminology and marketing.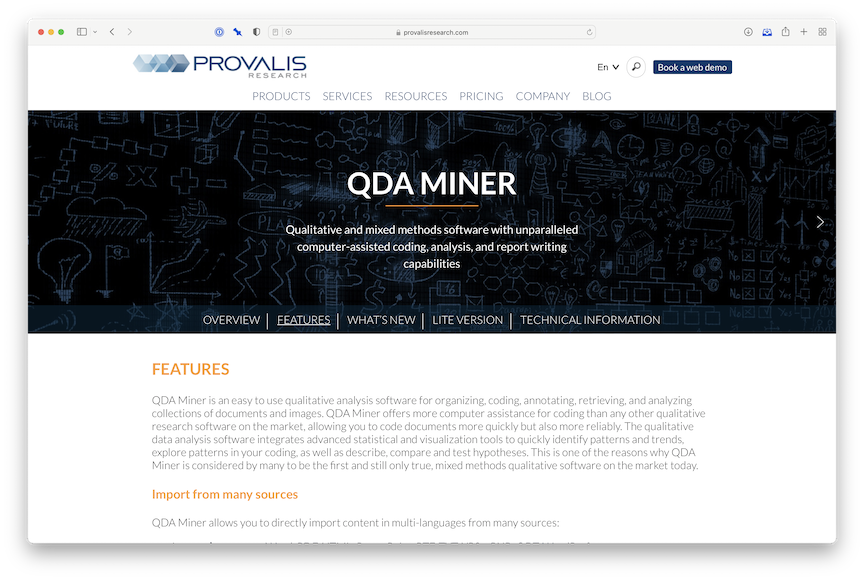 QDA Miner is another mixed methods and qualitative data analysis software package designed to assist researchers in managing, coding and analyzing qualitative data.
The data typically used with this qualitative research software comes from (among others), journal articles, script from TV or radio news, social media (such as Facebook, Twitter or reviews from websites), interviews or focus group transcripts and open-ended questions from surveys.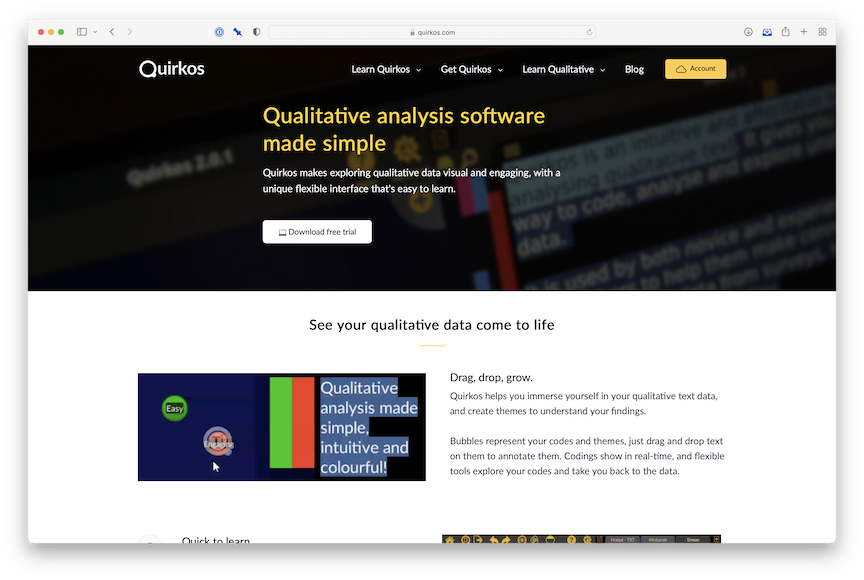 Quirkos is a CAQDAS (computer-assisted qualitative data analysis software) software package for the qualitative analysis of text data, commonly used in social science. It provides an easy to use interface designed primarily for new and non-academic users of qualitative data.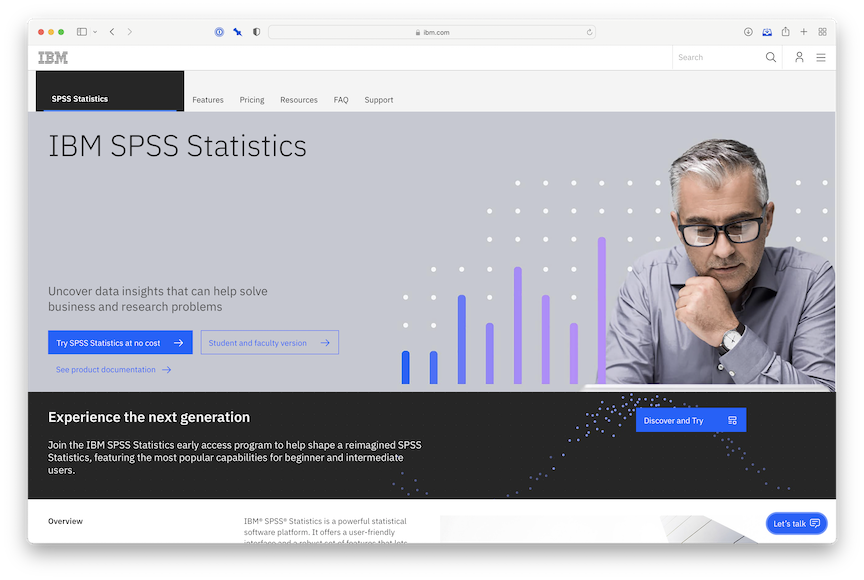 SPSS is a widely used program for statistical analysis in social science. It is also used by market researchers, health researchers, survey companies, government, education researchers, marketing organizations, data miners, and others. This is one of the classic tools in social science research but it does come with a relatively steep learning curve.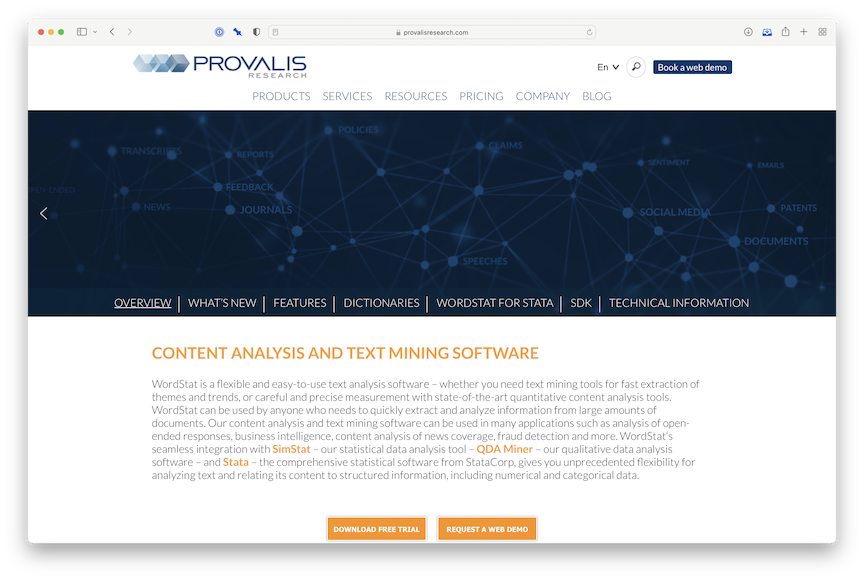 WordStat is a content analysis and text mining software. The software is mainly used for business intelligence and competitive analysis of websites, sentiment analysis, content analysis of open-ended questions, theme extraction from social media data, etc.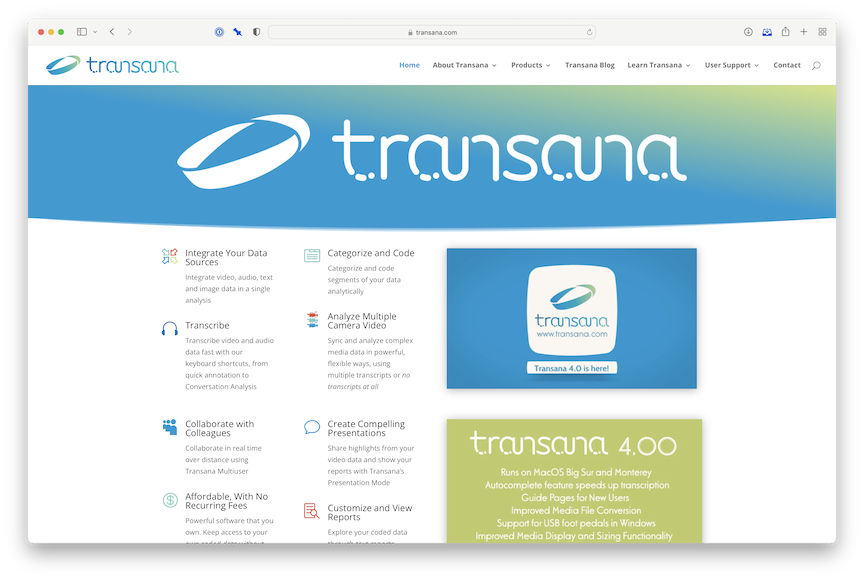 Transana is another, more general desktop tool that lets users work with video, audio, image, text and survey data. It offers audio transcription tools, video analysis as well as presentation/collaboration tools.
Cloud Based Software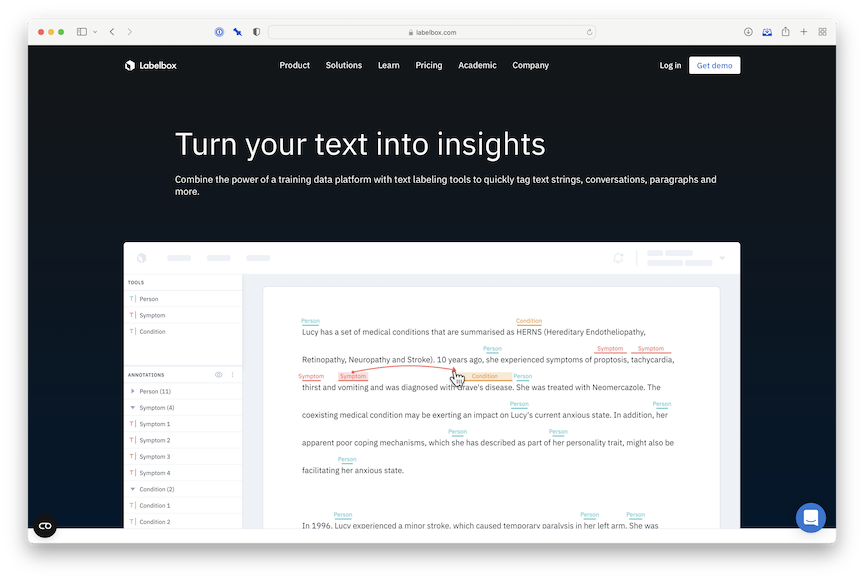 Labelbox is a training data platform for industrial data science teams for labelling and management of neural network training. Labelbox aims to develop high-quality labelled training data in order to reduce machine learning development cycles.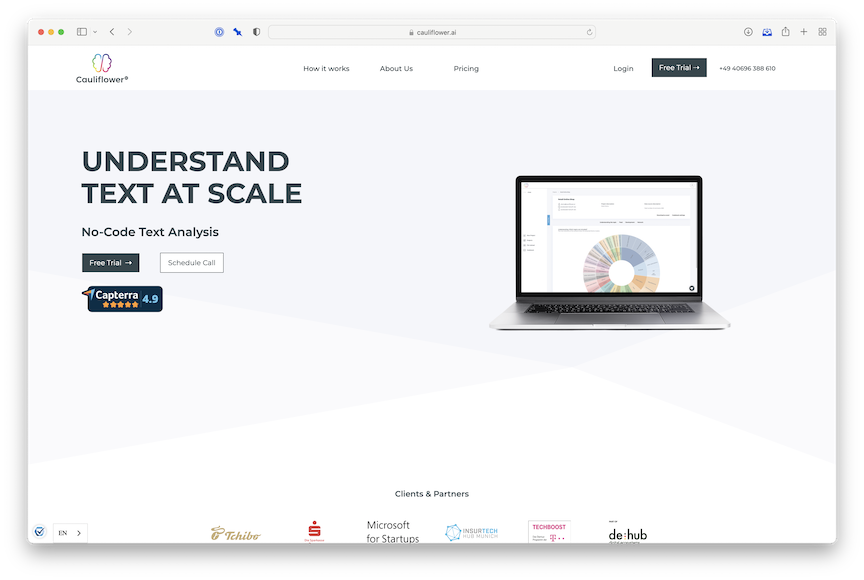 Cauliflower is an AI platform that allows you to analyze texts or verbatims and save hours of manual work. Cauliflower is used to classify open-ended questions, chats, comments and reviews. Features include topic extraction, sentiment analysis, engaging visualizations and excel export.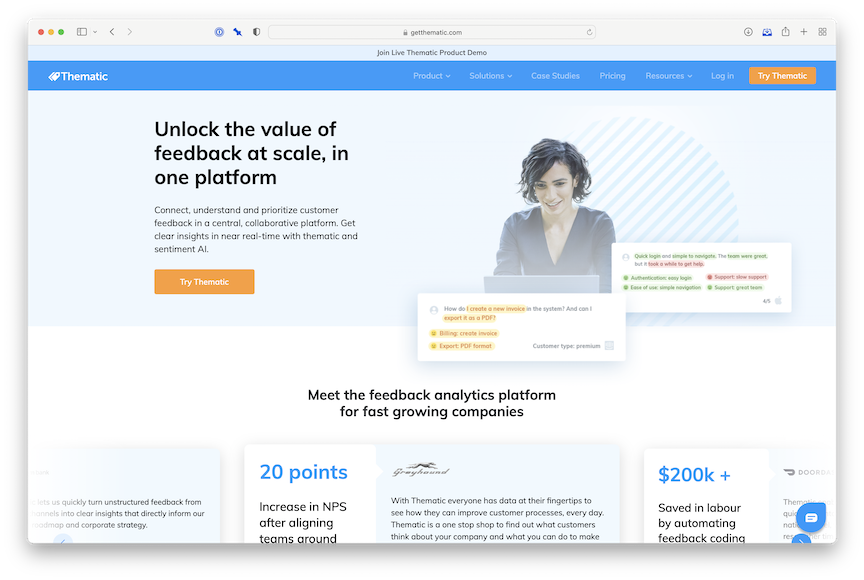 Thematic is a customer feedback analysis solution focussed on free-text comments although it could equally be used in education settings.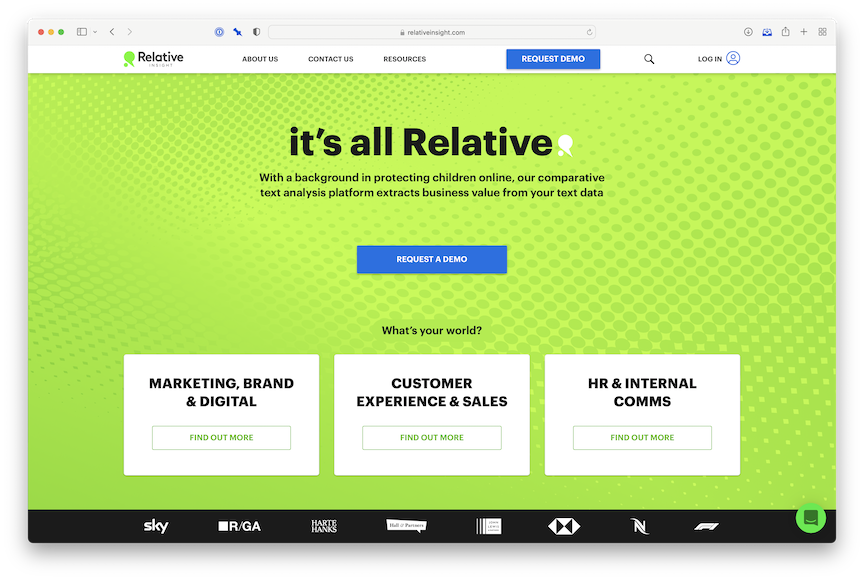 Relative Insight uses technology originally created for crime detection to detect linguistic and attitudinal differences between consumers and brands, and language differences over time. It detects statistically significant differences in words, topics, style and grammar to help brands (but also education providers) determine how to interact with consumers/students and in what context.
Related Entries